What is a hair keratin treatment ?
Our hair salon in Montreal offers much more than just hair cuts and hair colouring services. There are treatments available to help you improve the health and shine of your hair. When your hair is prone to dryness and frizz, you'll find Keratin treatments are a miracle solution that will revitalize your hair, making your hair silky soft and giving it the ultimate shine.
What is keratin? Keratin is the main protein that makes up your hair, skin, and nails. Your hair needs keratin to keep it from appearing dry, frizzy, and damaged. Over time, your hair loses keratin from styling, chemicals, environment, and exposure to the sun. A keratin treatment helps replenish the keratin in your hair by a chemical smoothing and straightening solution that delivers a ton of shine and eliminates frizz in just one sitting. If you want healthy hair, a keratin treatment may be a great option.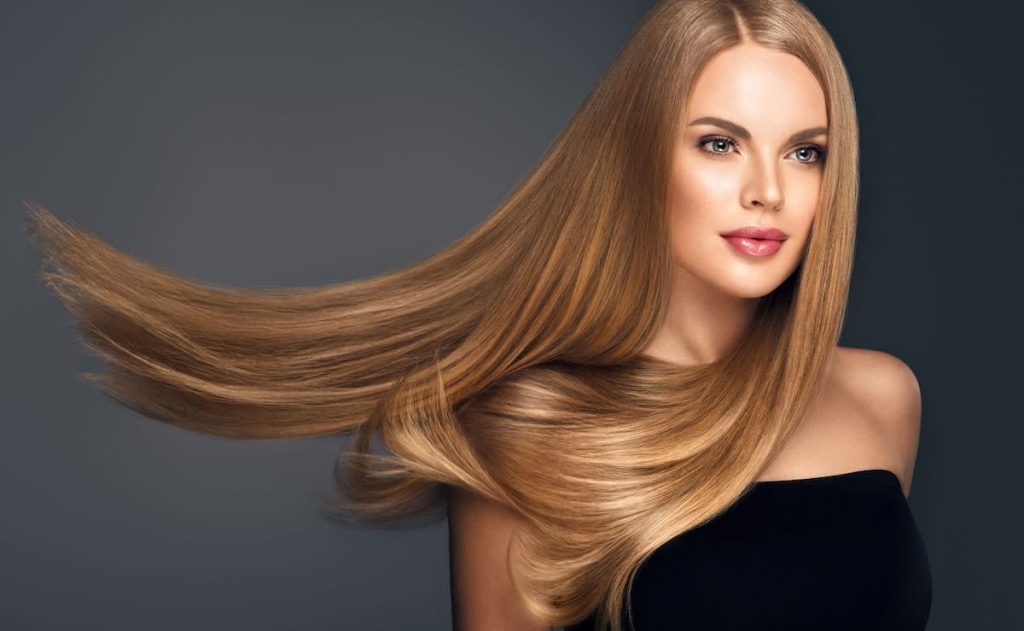 How Does a Keratin Treatment Work? 
A keratin treatment is performed by a stylist or a professional in which they apply a unique formula of keratin-infused chemicals to the hair and allow the treatment to sit and work its magic. The treatment penetrates the porous spots in your hair stands to fill the gaps where keratin has been reduced, resulting in a smoother appearance.
Getting a keratin treatment is the best option for ensuring a healthy, smooth shine, but you can help manage the health of your hair treatments in between appointments by adding keratin products to your hair care routine.
One of the best ways to introduce keratin to your hair is using a conditioner infused with keratin. We recommend Kevin Murphy Smooth.Again Rinse to help keep your hair healthy and smooth and help maximize the length of your keratin treatments.
For preventive measures to protect your hair from keratin loss, before you go out for the day, protect your hair from sun damage by using Balmain Sun Protection Spray available online at the Haus of Rtists online shop. 
What are the Pros and Cons of Keratin Treatments?
The benefits of a keratin treatment go beyond the smooth, shiny appearance your hair will have after. A keratin treatment can also help your hair become more manageable and tangle less, locks out humidity, cut your blow-drying time in half, and of course, introduces a lustrous shine.
An alternative to a hair keratin treatment is hair botox. This treatment aims to promote healthier skin and stronger roots, making making your hair more manageable and easier to style.
What To Expect from a Keratin Treatment
Keratin treatments can last anywhere from 2 hours to 4 hours, and they depend on the texture of your hair, the amount of hair, and the formula needed to ensure the keratin treatment does its job. Your hairstylist will wash your hair before the treatment begins and apply the keratin directly to your wet hair. The treatment will sit for about half an hour to let the formula saturate each strand. After rinsing the hair, the stylist will blow-dry and straighten your hair to lock in the treatment. You will not be able to wash your hair or style it for at least 72 hours after the treatment to ensure the results last.
Keratin treatments can last anywhere from 3 to 6 months with proper maintenance and washing schedule. Keratin treatments are a game-changer for those who have frizzy, unruly hair and want long-term straight, smooth, and healthy hair.
Are you looking for the best Keratin treatment? Call to inquire about the keratin treatment we offer at our hair salon in Montreal.
For information about other hair services offered at our beauty salon in Laval visit our services page. You can also find some of our hair transformation results on our Instagram page @haus_of_rtists.
You may also request an appointment online.